Zelkiiro wrote:
BastardHead wrote:
Zelkiiro wrote:
[war in general] is just dour and grim and bleak, I can't picture Sabaton of all bands making it exciting without being tone-deaf.
FTFY.
For real this is kind of my biggest beef with Sabaton the more I think about it. Their sort of ultra-jingoistic unchallenging Disneyfication of brutal war and massive death just seems so out of touch and shallow. Fantasy shit is cool, nasty re-imaginings for shock value is one thing, but constantly reaching to real-life slaughter and making bouncy synthy major key 80s aerobics-metal tunes out of it just feels like a slap in the face.
Well yeah, but I mean in terms of comparing wars to one another, WWI is just excessively grimdark. Like, no wonder absurdism and nihilism took off like crazy in its wake--this shit was so brutal, so horrific, so pointless that even the stoutest of believers is forced to reckon with the idea of faith in a supposedly benevolent god in the face of such utter, merciless atrocity...and Sabaton's doing an album of nothing but that.
The Battle at Thermopylae? Badass. The last stand of the samurai? Cool. Bombin' Nazis? Fuck yeah. The horrors of siege warfare in the trenches being poisoned to a slow and agonizing death in a stationary, unending conflict for the glory of nothing? Gross.
I've not picked your post for any reason - several have made the 'trenches, gas, etc etc' statements, and they do always get made, so please don't take this in any way personally.
There was plenty of that war that wasn't trenches.
Most of the start and end was not in trenches, and a good part of the rest of the land war was movement-based, especially in Russia / Prussia.
Some images from the Western and Eastern Fronts might help - and I assume Sabaton won't be re-writing Iron Maiden's Paschendaele with their style, or trying to set Wilfred Own to music.
The naval war was also fairly mobile - the Battle of Jutland would be a cracking heavy metal song.
Battle of Tannenberg 1914
Battle of Mons - 1914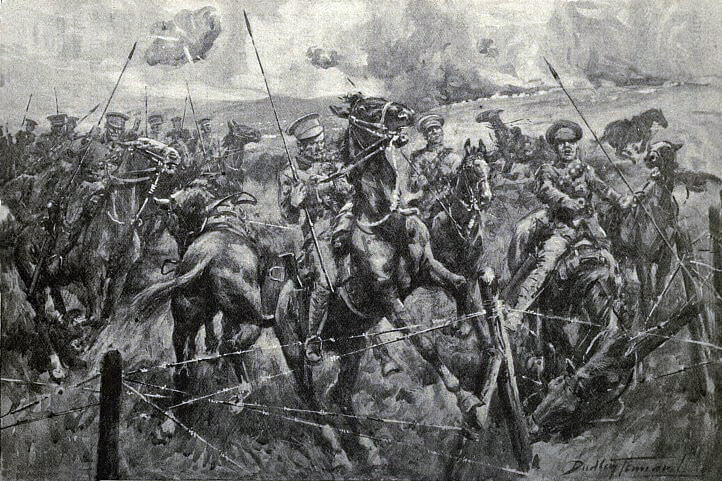 Tanks at the Battle of Cambrai - 1917
Flowerdew's Charge - 1918
Dreadnoughts steaming to Jutland