deopisi wrote:
Sulphur aeon - Gateway to the antisphere, by Par Olofsson, especially the extended artwork, as shown in the vinyl


First because it's monstrous (one of the first adjectives that come to my mind when I think of death metal), then it's so complex and detailed. Fucking perfect.
+1 for me. Perfect album cover, conjuring the eldritch horror the bands music invokes.
Here's my take.
Vader -
De Profundis
. Love the colour scheme and the otherwordly, Lovecraftian terror of beyond. Fantastic album also.
Desolate Shrine -
Tenebrous Towers
. Again, outstanding palette, not disguising the ominous nature of the artwork, and sinister tone of the album as a whole.
Angelcorpse -
Exterminate
. Completely in your face, over the top, garish and utterly encapsulates the vicious creation that is is
Exterminate
.
Necros Christos -
Triune Impurity Rites
. One of my favourite, modern DM albums of all time, and I'm a huge fan of the occult, ritualistic simplicity
perfectly
matching the atmosphere and tone of this masterpiece.
Absu -
Barathrum: V.I.T.R.I.O.L.
(Osmose version). Whatever they are now, there is no denying that the debut is some solid, occult themed DM - and a great one at that. Same with this album as with the Necros Christos record. Really like the cult priest front and center, with the band members in the background. Simple but effective.
Vanhelgd -
Temple of Phobos
. Just perfection really from an outstanding DM act, from an outstanding album. I love all of Vanhelgd's album covers actually, especially the last couple - and the border style sets it apart from contemporary acts worldwide.
Engulfed -
Engulfed in Obscurity
. Do I really need to explain this? You all have eyes yes? Just stunning, as is this colossal, crushing album.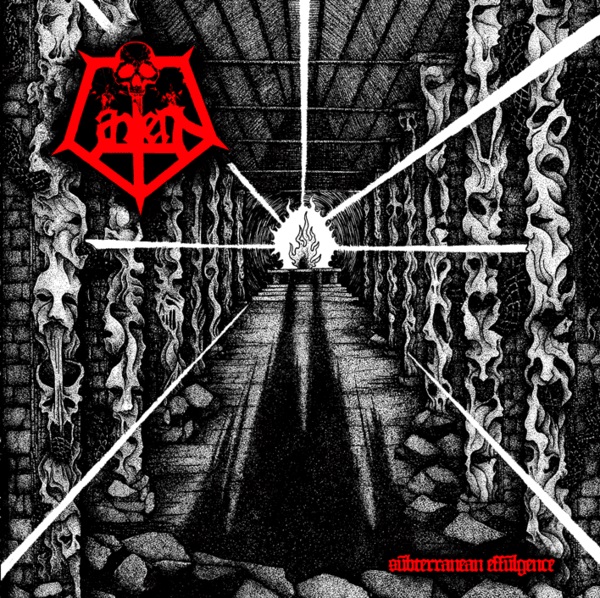 Lantern -
Subterranean Effulgence
. Love the stark contrast of the logo against the monochrome (and detailed) artwork, with beams of light emanating from the center of the piece.
Trenchrot -
Necronomic Warfare
. Maybe a slight nod to Evil Dead, doesn't take anything away from it. Ripping art for a ripping record.
Asphyx -
On the Wings of Inferno
. Simple and to the point, pretty much exactly like Asphyx, and this album. Awesomely sinister.
Belial -
Wisdom of Darkness
. As amateurish as this is, I can't help but love it. Mixed with a large chunk of nostalgia, it just reminds me of the nineties (and my youth haha). Still a solid, murky slab of black/death.
Funebrarum -
Beneath the Columns of Abandoned Gods
. Grim and slightly off. So just like the album itself.
Drawn And Quartered -
Return of the Black Death
. This is some rather strange, but awesome art, backed by some dense,
savage
tunes. Great use of colour and... just weird images thrown together in a collage of perversity and nightmarish horror.