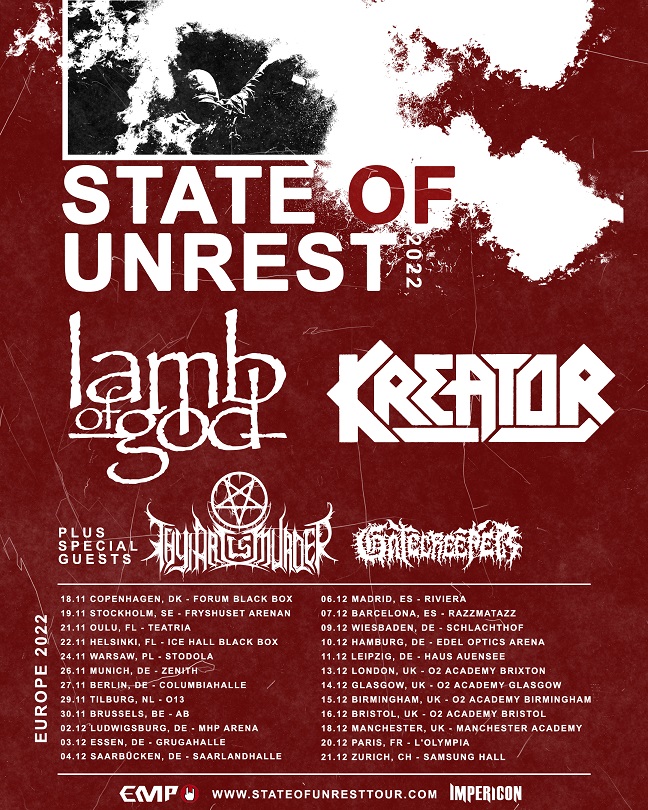 18.11 - Copenhagen, Denmark
19.11 - Stockholm, Sweden
21.11 - Oulu, Finland
22.11 - Helsinki, Finland
24.11 - Warsaw, Poland
26.11 - Munich, Germany
27.11 - Berlin, Germany
29.11 - Tilburg, Netherlands
30.11 - Brussels, Belgium
02.12 - Ludwigsburg, Germany
03.12 - Essen, Germany
04.12 - Saarbrücken, Germany
06.12 - Madrid, Spain
07.12 - Barcelona, Spain
09.12 - Wiesbaden, Germany
10.12 - Hamburg, Germany
11.12 - Leipzig, Germany
13.12 - London, England
14.12 - Glasgow, Scotland
15.12 - Birmingham, England
16.12 - Bristol, England
18.12 - Manchester, England
20.12 - Paris, France
21.12 - Zurich, Switzerland
This tour has been postponed twice (originally featuring Power Trip as support, before their early demise).
I am going to be visiting Germany in November and will be catching the show in Munich. I've been a huge fan of Kreator since I got into metal, and I'm pretty excited to be seeing them in Germany, even if it isn't their hometown show.
_________________
Thrash, Death and early Black Metal Fanatic



Purveyor of absolute bastardry.





Lord_Of_Diamonds wrote:

So, there's the album "Reign in Blood" with the song "Rainin' Blood" on it. I wonder if that naming choice was intentional.