https://www.songkick.com/artists/82859- ... t/calendar
'Twould seem Midnight will have a few scattered dates throughout spring in support of their new album,
Sweet Death and Ecstasy
. Their main tour with Bat is in May, but I figured I would post the other dates I found on songkick as well. I will be seeing them at the Hell's Heroes fest in Houston for sure! If there are any other dates not on their songkick, feel free to post them here, and I'll try to update the thread if I see anymore added.
Dates (so far):
Friday 09 March 2018 - Ace of Cups, Columbus, OH, US
Friday 30 March 2018 - with Necrot, Powermad, The Foundry Philadelphia, Philadelphia, PA, US
Saturday 31 March 2018 - with Treepeople Doug Fir Lounge, Portland, OR, US
Sunday 08 April 2018 - with Integrity The Foundry (hifi), Lakewood, OH, US
Friday 20 April 2018 - Double Wide, Dallas, TX, US
Saturday 21 April 2018 Hell's Heroes Festival 2018 White Oak Music Hall - Downstairs, Houston, TX, US
Dates w/ BAT: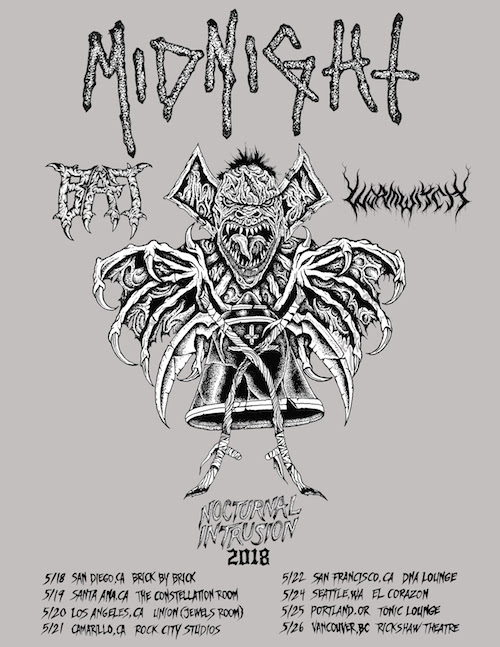 Friday 18 May 2018 - Brick By Brick, San Diego, CA, US
Saturday 19 May - Constellation Room Santa Ana, Ca
Sunday 20 May 2018 - Union Nightclub - Jewel's Room, Los Angeles, CA, US
Monday 21 May 2018 - Rock City Studios, Camarillo, CA
Tuesday 22 May 2018 - DNA Lounge San Francisco, CA
Thursday 24 May 2018 - El Corazon, Seattle, WA, US
Friday 25 May 2018 – The Modified Ghost Festival 2018 - Rickshaw Theatre, Vancouver, BC, Canada
Saturday 26 May 2018 - Rickshaw Theatre Vancouver, B.C.