It's a first full length album from most touring metal band of Kazakhstan - ZARRAZA.
Mixed and mastered at Navaho Studio, Moscow (KATALEPSY, SIBERIAN MEAT GRINDER)
Artwork created by W.Smerdulak (created designs for KATALEPSY)
Track list:
1. Abyss Above Me
2. Shadows
3. Necroshiva
4. More Than Hate
5. Echo of the Future
6. Dead Star
7. Voice of the Forgotten
8. 150 Words
QUOTES FROM REVIEWSWorld Of Metal Mag review:
"Inspired by the likes of SLAYER, NAPALM DEATH, SEPULTURA, and DECAPITATED,
ZARRAZA's new track demonstrates the promise of this underrepresented corner of the worldwide metal scene".
Invisible Oranges review:
"While the riffs dive and dart through rhythmic shifts and truncated measures,
drummer Ruslan Konon propels the band ever ahead with a nonstop battery of pummeling double kicks and blast beats.
Guitarist Nick Khalabuzar dances between blazing single-note progressions and furious chugs in the creation of a palpable energy that feels ever on the edge of combustion.
Handling vocals, Khalabuzar eschews the meticulously refined death growls of his peers in favor of a raw shouted delivery to carry his politically-charged lyrics"
No Clean Singing review:
"If your ass is dragging due to lack of sleep, boredom, or a gloomy outlook on the future, this track will kick it into high gear.
It's blazing fast, with loads of fleet-fingered fret-work, blistering percussion, and hair-raising vocal barbarism, while also making room for slower movements
in which the band spin out beguiling melody and an extended, eye-popping solo that would make a packed arena of fans lift their clawed hands to the heavens".
Drunk In A Graveyard review:
"Keep a close eye (or ear) on Zarraza as they may well make waves in the very near future.
Here's hoping they get the attention they deserve in a landscape littered with copycats, scenes finding resurgence and little creative ingenuity.
Well worth a listen. 8-"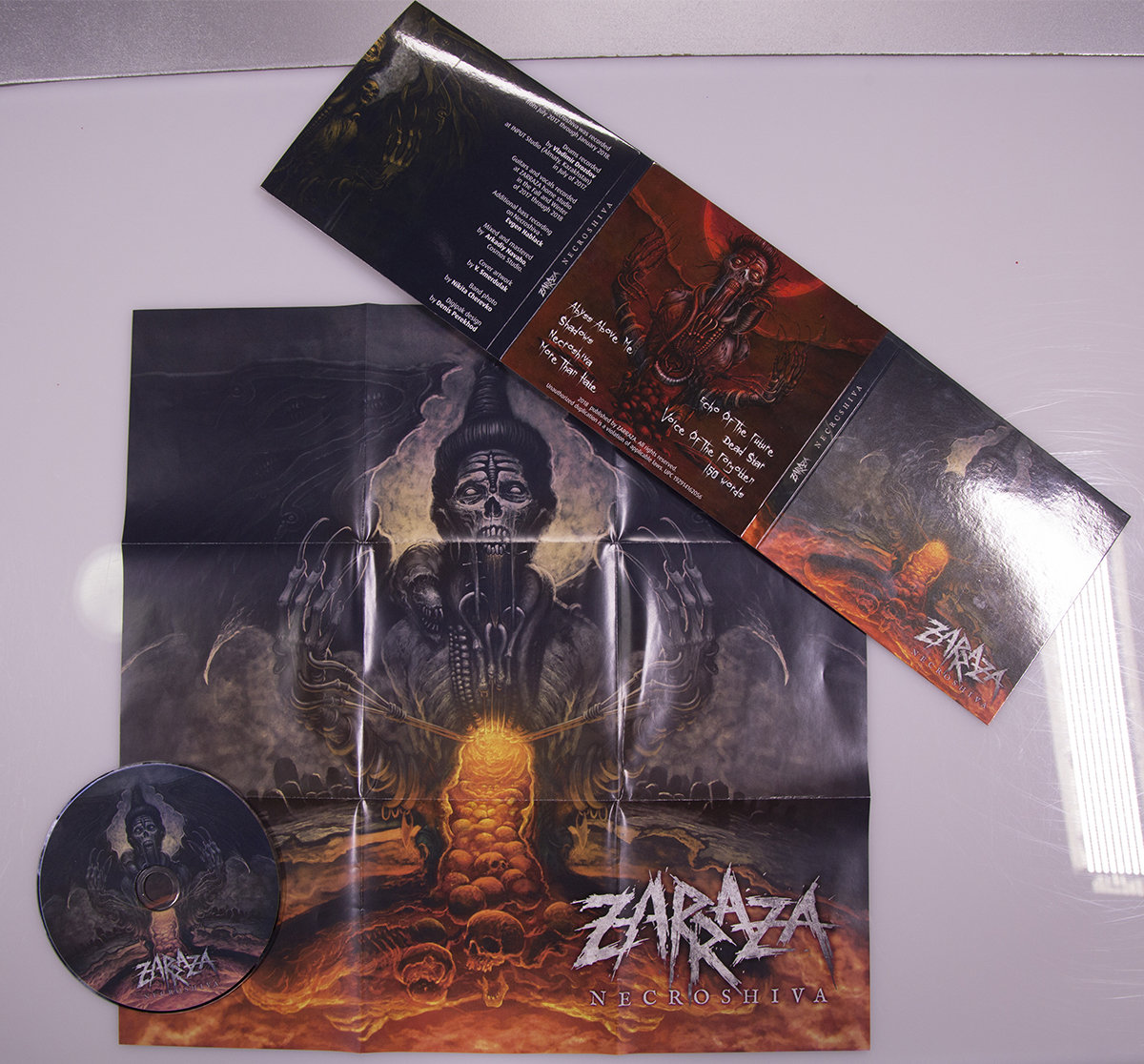 Promo videos for album:
"Abyss Above Me" lyrics video:
https://youtu.be/YGhgpVPST8U
"Shadows" video:
https://youtu.be/Efkc8BE1kfc
You can buy it in a few ways:
Bandcamp:
https://zarraza.bandcamp.com/album/necroshiva
Ebay:
https://www.ebay.com/itm/ZARRAZA-Necroshiva-2018-digipak/173367140911?hash=item285d7ca22f:g:3rkAAOSwE-xa9vdO
Or you can write directly to me and pay via Paypal.