'I'm No Longer Afraid': 35 Women Tell Their Stories About Being Assaulted by Bill Cosby, and the Culture That Wouldn't Listen
http://nymag.com/thecut/2015/07/bill-co ... k-out.html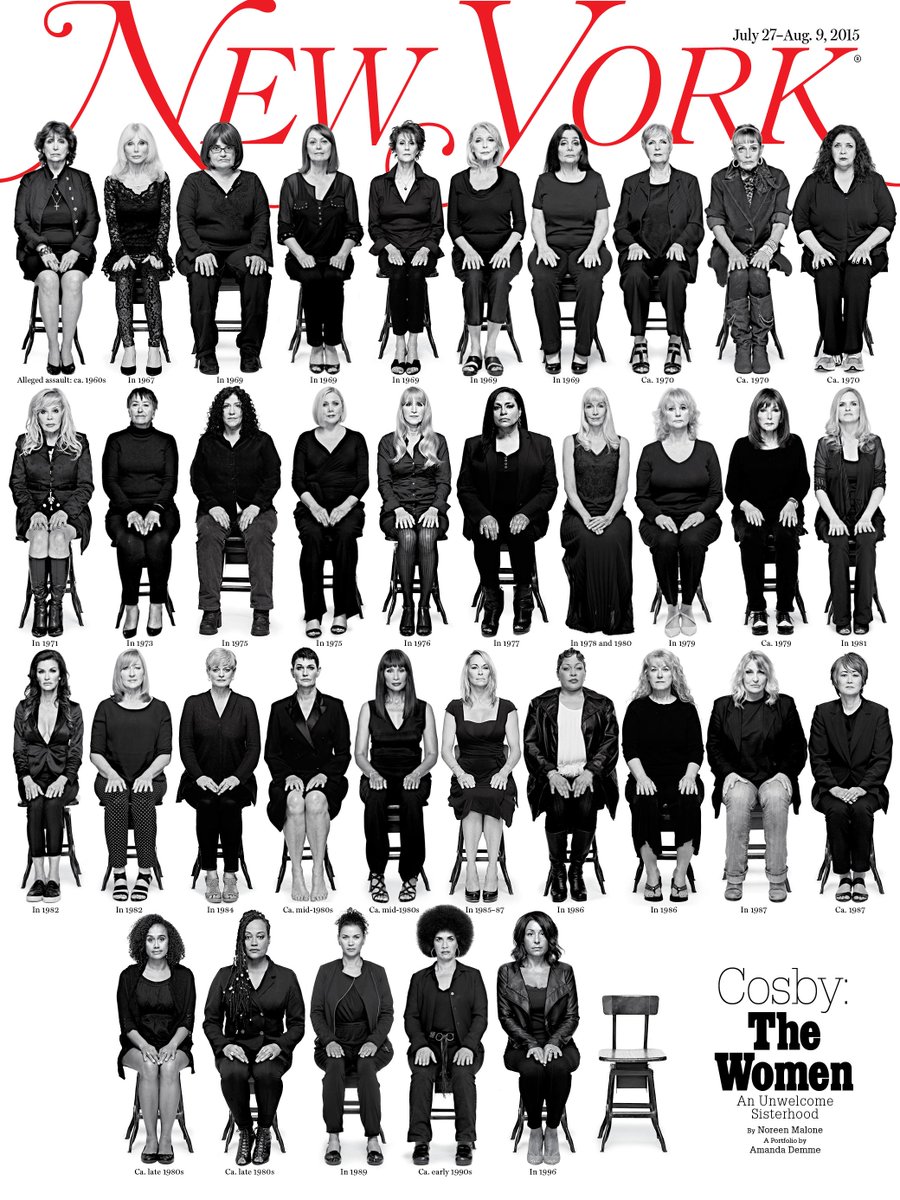 Quote:
Perhaps the most shocking thing wasn't that Buress had called Cosby a rapist; it was that the world had actually heard him. A decade earlier, 14 women had accused Cosby of rape. In 2005, a former basketball star named Andrea Constand, who met Cosby when she was working in the athletic department at Temple University, where he served on the board of trustees, alleged to authorities that he had drugged her to a state of semi-consciousness and then groped and digitally penetrated her. After her allegations were made public, a California lawyer named Tamara Green appeared on the Today show and said that, 30 years earlier, Cosby had drugged and assaulted her as well. Eventually, 12 Jane Does signed up to tell their own stories of being assaulted by Cosby in support of Constand's case. Several of them eventually made their names public. But they were met, mostly, with skepticism, threats, and attacks on their character.

[...]

The group of women Cosby allegedly assaulted functions almost as a longitudinal study — both for how an individual woman, on her own, deals with such trauma over the decades and for how the culture at large has grappled with rape over the same time period. In the '60s, when the first alleged assault by Cosby occurred, rape was considered to be something violent committed by a stranger; acquaintance rape didn't register as such, even for the women experiencing it. A few of Cosby's accusers claim that he molested or raped them multiple times; one remained in his orbit, in and out of a drugged state, for years. In the '70s and '80s, campus movements like Take Back the Night and "No Means No" helped raise awareness of the reality that 80 to 90 percent of victims know their attacker. Still, the culture of silence and shame lingered, especially when the men accused had any kind of status. The first assumption was that women who accused famous men were after money or attention. As Cosby allegedly told some of his victims: No one would believe you. So why speak up?

[...]

There are now 46 women who have come forward publicly to accuse Cosby of rape or sexual assault; the 35 women here are the accusers who were willing to be photographed and interviewed by New York. The group, at present, ranges in age from early 20s to 80 and includes supermodels Beverly Johnson and Janice Dickinson alongside waitresses and Playboy bunnies and journalists and a host of women who formerly worked in show business. Many of the women say they know of others still out there who've chosen to remain silent.

[...]

All 35 were interviewed separately, and yet their stories have remarkable similarities, in everything from their descriptions of the incidents to the way they felt in the aftermath. Each story is awful in its own right. But the horror is multiplied by the sheer volume of seeing them together, reading them together, considering their shared experience. The women have found solace in their number — discovering that they hadn't been alone, that there were others out there who believed them implicitly, with whom they didn't need to be afraid of sharing the darkest details of their lives.

I read the whole thing, including every single testimony. It's horrifying, but these women's voices needed to be heard. And those are just the ones that came forward; there are many more out there who are just too frightened to say anything, even now.
After reading all these stories, I'm wondering if there is even one young woman out there that he met that he
didn't
rape.
Yet it's crazy how similar each story is, despite being told independently. So many young women trusting him to help them break into the industry. But sometimes just plain random women too, like that journalist who asked him for an interview, or a waitress at a bar, or even a completely random woman who worked in a donut shop he happened to patronize. He acts all fatherly and kindly and no one would ever
not
trust him, so when he gives them a drink why should they refuse? He pretty much perfected the pattern. Sickening.
And how many times the lines "You do know that's [Hugh] Hefner's best friend, right? Nobody's going to believe you. I suggest you shut your mouth.". Whoever the people who said this are, should be tried as accomplices. Fucking assholes. And whoever provides all these pills, too. There's no way he obtained so much drugs legally, is there?
And in some of the stories, Cosby actually did have an accomplice. In one of the stories the woman was raped by a friend of Cosby while he watched and they laughed at her. Just how fucking evil and depraved can a man be? And of course this serial rapist psychopath is still walking.
I guess it's small comfort that his legacy is ruined the way OJ's was, but that's not nearly enough.
_________________


Von Cichlid wrote:

I work with plenty of Oriental and Indian persons and we get along pretty good, and some females as well.




Markeri, in 2013 wrote:

a fairly agreed upon date [of the beginning of metal] is 1969. Metal is almost 25 years old