insanewayne253 wrote:

I like Bernie. The downside with Bernie is he's great with coastal cities and the youth vote, but the older voters who are still a good chunk of the Democrats don't want him and want someone a little more moderate. Nominate a moderate, you alienate the youth vote, nominate a true progressive, you alienate the older moderate wing. We need honestly a consensus candidate or we're going to end up in a contested convention. Me personally, I'm voting for whoever they nominate. If it's Biden, fine; he is polling the best at the moment. Let's see who he picks as a running mate to balance the ticket.


It may not matter if the old geezers don't like Bernie.
The new generations outvoted the boomers in 2018.
Fucking finally.
From the article: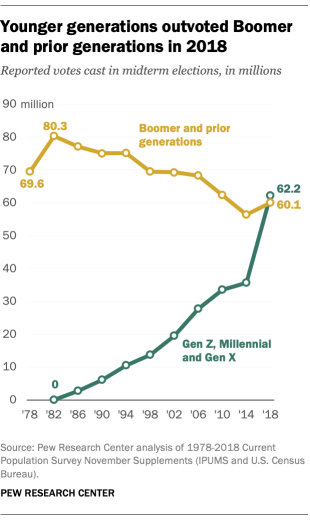 Quote:
Higher turnout accounted for a significant portion of the increase. Millennials and Gen X together cast 21.9 million more votes in 2018 than in 2014. (The number of eligible voter Millennials and Gen Xers grew by 2.5 million over those four years, due to the number of naturalizations exceeding mortality.) And 4.5 million votes were cast by Gen Z voters, all of whom turned 18 since 2014.

By comparison, the number of votes cast by Boomer and older generations increased 3.6 million. Even this modest increase is noteworthy, since the number of eligible voters among these generations fell by 8.8 million between the elections, largely due to higher mortality among these generations.
This number will only increase going forward. I can't help but think of a cruel irony that the older generations that support Republicans, centrists, and Trump are actually being partly killed off by the shitty way Republicans treat healthcare.
For that matter,
Bernie and Warren are the closest to actual fucking moderates
. The rest of the Democratic party has been moved too far right in recent decades. Sorry, couldn't get an image to link. Sanders and Warren (and Gravel?) are the closest to the left-right center
and
the closest to the authoritarian-libertarian center. They are the closest thing to
actual moderates
that we have. This is how badly American politics has been skewed to the right.