darkeningday wrote:

Also, everyone now seems fine with the three Klingon redesigns (not even counting JJ Trek), multiple Romulan redesigns, the Borg redesign, the fact each Trek series had different conceptual art styles and better special effects from each season prior, so what's so offensive about Discovery's few redesigns? These complaints aren't usually presented in good faith, in my experience, and seem to often just be nitpicks for people who've already decided to dislike the show for other reasons.
I'll put this out there as a general criticism of science fiction in general: Transparent and giant holographic screens and computer displays are fucking stupid for every possible reason. Discovery has taken this to the nth degree. That was about when I tuned out of CSI: Miami, when suddenly they were using futuristic Stark Industry style transparent computer monitors (that, and that show turned into just another action-centered cop drama fast).
Look at this stupid shit: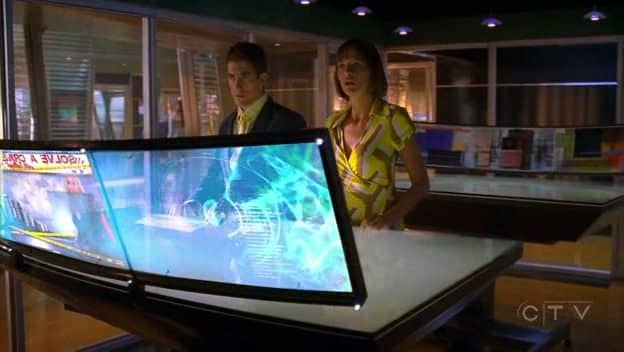 Not only is that borderline unusable, but it offers zero privacy, blatantly destroys clarity, and just plain looks fucking stupid. One would think you'd want your sciencey, detailed analyses on
evidence
to be studied with better visualization, not worse. How this became practically
the most common trope
of modern fiction and science fiction is beyond me. It's unbelievably stupid. There is literally no benefit to a screen like this, except for bosses who want to monitor literally everything you do.
On Discovery, this is basically
every single screen and monitor
. Maybe the reason they don't use it in the 24th century is because they realized how fucking stupid and useless it was and put their fucking monitors back to normal by then. Beyond that, all these holographic and transparent monitors just clutter the screen with an overload of CG bells and whistles nonsense. If Michael Bay was interested in computers and holograms instead of explosions, this is exactly what he'd make.
That you don't agree with a criticism does not mean it's not made in good faith. A "bad faith" criticism of Discovery would be to call it "leftist SJW propaganda" in between sending threatening tweets to any women involved in it. I'm all good on that front, I've never really complained about that in Trek or anywhere else, although focusing the series on a practically random non-Captain character is baffling. Still, the show is a visually chaotic mess, and a reboot was the wrong idea, as reboots tend to be unless there was something seriously wrong with the original shit.
Not disagreeing that Berman/Braga ran the franchise into the ground before. Voyager was a different kind of hot mess for nearly all of it's run--a fucking boring hot mess. Enterprise shot out of the gate from a losing position, and was canned when it was getting really good. But just because these guys are trying to avoid the Berman/Braga foibles doesn't mean they're going a great job here. Which I think you understand.
I would really just like to see some thoughtful storytelling and characters again, and I'm not getting that in between action-heavy scenes of rampant space explosions and flashy holo-computer monitors all over the fucking place. What the fuck is the message of this show?