Greetings, this is James aka Roach aka Horus, former member of LORD FOUL (USA) and current member of HARASSOR and MOONKNIGHT. I have a few new releases on my label RISING BEAST RECORDINGS:
MOLOCH (UKR) / MOONKNIGHT Split 7"
RBR014 - Rising Beast proudly presents this split 7" release of depressive black metal. The ever-prolific MOLOCH from Ukraine delivers a new song titled "Die letzten Strahlen der Sonne verblassen in der Kalte der Apathie" that continues the great tradition of cold, raw and angular despair you have come to expect from the tortured artist Sergiy Fjordsson. MOONKNIGHT (ex-LORD FOUL) returns with "Night Creature", a bleak, depressive dirge which is the first new song since 2012's "Ligeia" and the first material to feature live drums courtesy of Andorkappen aka LORD TIME. Cover art on the MOONKNIGHT side courtesy of artist Johnny Ryan, MOLOCH cover art and overall layout by Sergiy Fjordsson.
Limited pressing of 250 copies on black vinyl. Heavy stock pro-printed folding covers with black inner sleeves. Released by Rising Beast Recordings. Labels and distros please get in touch for wholesale/trade.
KRAYL "von dusteren Welten" Cassette
RBR015 - Hailing from Kalyan, India, KRAYL is the project of prolific black metal/ambient musician Svartblod, who is also behind such bands as VENT D'AUTOMNE, LOBOTOMICAL ABSTRACT TORTURE, DE L'ENFER, and many more. With KRAYL, Svartblod deftly skirts across the boundaries of black metal, shoegaze, and ambient, stirring them together into an alchemical blend that is both necrotic and transcendent. KRAYL achieves a startling emotive resonance of deeply affecting atmosphere within a raw, blown-out and distorted recording. Synths and guitars pulse with sweeping strobes of blissful chords, while a distant drum machine clatters a far away ringing rhythm. The raspy vocals enter intermittently, adding an unsettling layer of tortured alien presence before retreating into obscurity. Lo-fi and powerful, KRAYL will appeal to fans of VELVET CACOON, YOGA, and WRATH OF THE WEAK.
Originally released by Nihil Interit Records (CD-R) and Depressive Illusions Records (cassette), re-issued by Rising Beast in a limited run of 150 pro-duplicated cassettes. Labels and distros get in touch for wholesale/trade.
MOONKNIGHT "Toplov" Re-issue Cassette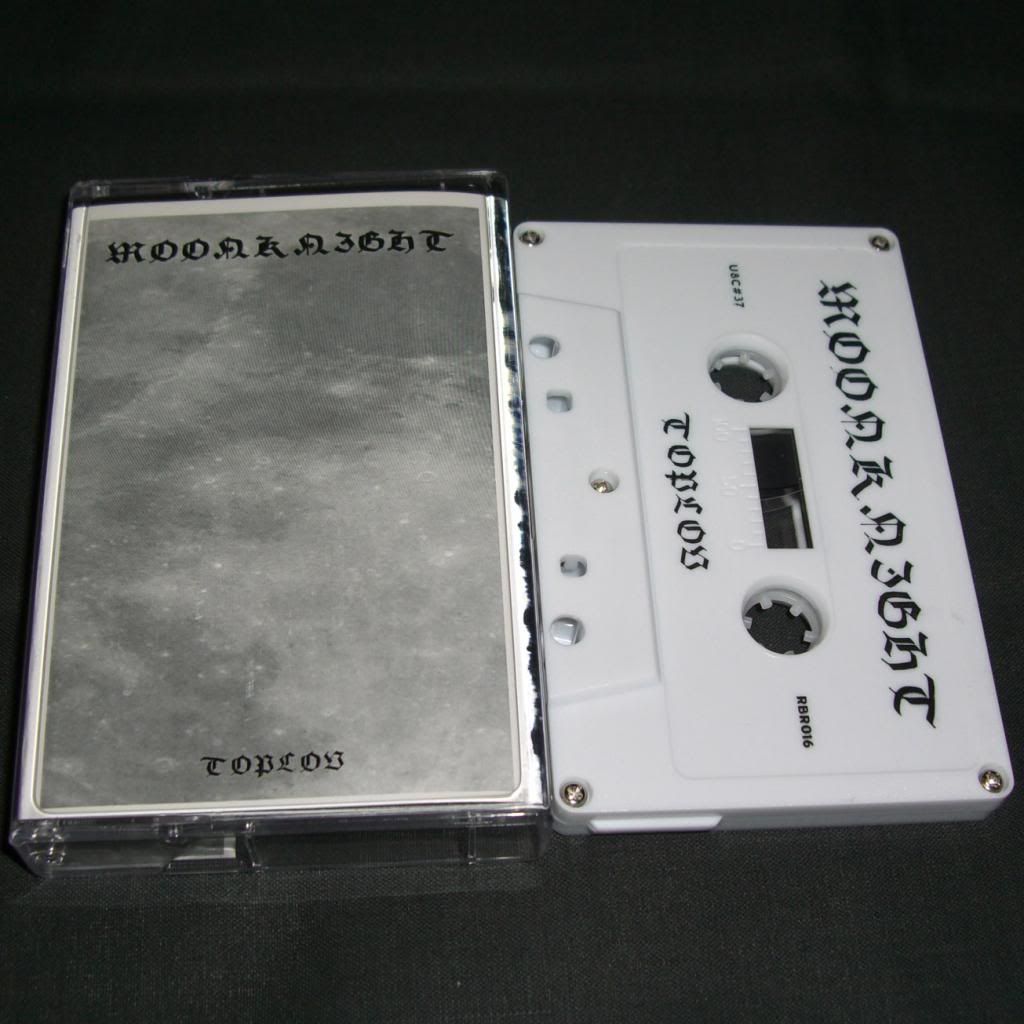 RBR016 / U8C#37 - MOONKNIGHT is the black metal solo project of Horus aka Roach aka James Brown III, former member of LORD FOUL and SON OF DOG and current guitarist for HARASSOR. The debut full-length "Toplov" was originally released as a promo-only CD-R and in a limited cassette edition of 100 copies from Universal Consciousness, which has long since sold-out. Consisting of 14 tracks of raw, distorted black metal/shoegaze, ripping thrash metal and nekrotic dream pop, the entire album has now been given the remastering treatment courtesy of Horus and Andorkappen aka LORD TIME.
Limited edition of 200 copies on pro-duplicated cassettes with pro-covers. Co-released by Rising Beast and Universal Consciousness. Labels and distros please get in touch for wholesale/trade.
_________________
Webstore:
http://www.risingbeast.bigcartel.com
Downloads:
http://www.risingbeast.bandcamp.com
Twitter: @hoorpakraat
Facebook:
http://www.facebook.com/RisingBeastRecordings