I've recently started keeping a dream log of all the dreams I'm having and the ones I've had before. Some really interesting shit. Anyway, here's one that's really weird with some sad and funny overtones to it. It's from like 16 years ago, but I still remember it despite its brevity.
It starts immediately in the front seat of a car with an 8 year old version of myself and my dad who's driving on a familiar highway. Nothing unusual, just driving and talking about trivial things, and I'm just sitting there bored.
Now before I proceed, you should already be familiar with this comic character: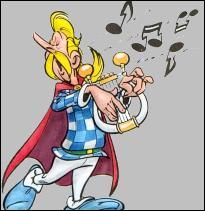 If you don't know him, he's Cacofonix the bard from the french Asterix comics. Read more about him
here
if you wish.
Sooo, what happened in the dream? I turn to the left, only to find that my dad has been replaced by Cacofonix. The car was still running and he was trying to tune his lyre. He was quite happy because he was soon getting the chance to play his instrument, and I'm looking at him with a sense of bewilderment, fright and great concern. This brief conversation took place:
Me:
Assurancetourix (his french name) what the hell are you doing here?!
Cacophonix:
I don't know! Hey, isn't this fun?
Me:
NO! Do you know how to drive?!
Cacophonix:
No, but I'll try. What is this?
Me:
We're gonna crash!
Dream ended there. Maybe not a disturbing one at first, but pretty much a mindfuck for an 8 year old.