My whole problem with hipster metal is this:
The image is more important than anything else. Than to be creative. To be a part of a cool "scene" is the most important aim. And even the MUSIC itself must be tailored to be cool. Hence the safeness of the "retro" gimmick, or the "post metal avant garde" thing as well.
These bands are all carefully tailored to look, and sound, as either stoner retro, or maybe sometimes avant-garde cool (Isis and Sunn for instance). The creativity and spontaneous spirit of a few years back is gone.
Banda like Death with Human, Pestilence with Spheres, Gorguts with Obscura, Entombed with Wolverine Blues, Morgoth with Odium and many others created innovative albums without having this obsession with attaching themselves with a sub sub-sub-sub group and a cool, stylish sub trend. They were "metal" guys for sure, a part of the youth culture package, which is made to sell records and clothes since Elvis Presley, but the concern was with the music.
Nowadays things are much more niche and image oriented. With even the music serving as a base for the image, in my view.
This is the HUMAN line up for Death. Maybe Paul Masvidal's blue shorts don't look the sharpest, but surely that's one impressive death metal album which, I believe, changed a lot for the genre: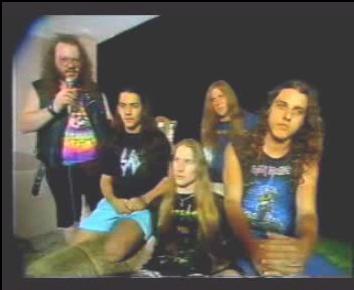 Bands nowadays are much more image obsessed. To the point, as I have stressed, that the music is written as a source for the band to be in a niche and within an image.