Delduwath wrote:

Your images aren't going to work if you try to take them from an e-mail attachment.

Just as a heads up, cutting off patches can be a massive pain in the ass. I've done it a few times, and it's never much fun. Also, the edges of the patches get kind of mangled by the needle after sewing them on the first time, and will get even more fucked up by whatever you use to remove them (if that matters to you--in some cases I think it can actually make the patch look cool). My advice would be to get a fresh start with a new vest and new patches unless some of the patches on your hoodie have sentimental value to you. If you must save your patches though, I suggest getting a seam ripper, or failing that, a brand new, double-sided razor blade (which tend to be more flexible, thinner, and sharper than single-sided razor blades) to cut the stitching. Chances are you'll wind up cutting the edge of the patch and yourself as well in the process, and you'll still have to remove the now-cut threads from both the seam and your hoodie, if--again--that stuff matters to you. Good luck.
There is actually a tool you can use called a stitch picker to pull out the stitches and leave the patch fairly intact. They look like this: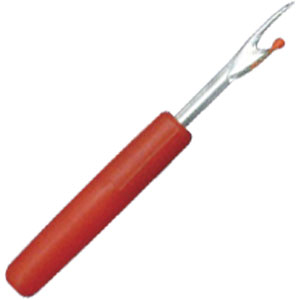 They're quite handy and will definitely help if you want to take patches off.
thanks man, you think I could find one of those at walmart or is it only at special stores