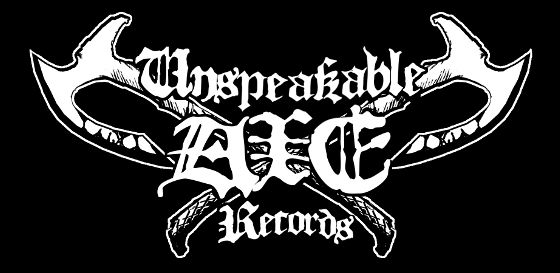 New and bloodthirsty label Unspeakable Axe Records has joined forces with crossover thrashers Birth A.D. to bring you the group's first full-length, "I Blame You." Birth A.D. have been terrorizing their home state of Texas since 2008, dropped a tactical nuke of an EP ("Stillbirth of a Nation") in 2009, and are now ready to leave the entire USA just a smoking crater with this anticipated debut. Full of punk attitude, thrash precision, and a whole lot of yelling, this CD is the rightful heir to great bands like D.R.I. and S.O.D., and gives exactly as much of a damn about what you think as those bands did. Birth A.D. is a well-oiled machine full of seasoned pros who have played live and in studio with many well-known bands, and with famed thrash producer Alex Perialas behind the boards, they sound as assured as you'd expect given their formidable credentials.
This is the first release of Unspeakable Axe, a sub-label of the mighty Dark Descent, whose roster of death, doom and black metal has made it internationally known in just a few short years. Unspeakable Axe will complement their parent label with a more thrash-oriented approach that hearkens back to the roots of extreme metal, and to the fluid transitions between the various sub-genres in their infant forms, before battle lines were drawn and rules were written and expected to be followed.
The band has this to say: "Joining forces with Unspeakable Axe and Dark Descent proved to be the best choice for Birth AD, as they are about the bands, the music, and doing things the old way (that is, the right way). We plan to cause even more problems with their support!"
"I Blame You" is expected to arrive in late spring/early summer 2013.
Evil Army/Birth AD live dates, 2013:
Thursday, April 4 - O'Briens Pub, Allston, NY
Friday, April 5 - The Acheron, Brooklyn, NY
Saturday, April 6 - Kung Fu Necktie, Philadelphia, PA
Sunday, April 7 - The Sidebar, Baltimore, MD
http://www.facebook.com/pages/Unspeakab ... 7519832146
http://www.facebook.com/causeproblems?ref=ts&fref=ts